Foam rolling can be an effective route to recovery. It's based on the principle of myofascial release: the freeing up of your fascia (the thin connective tissue that holds everything in place) to reduce stiffness and improve mobility.
However, when you don't know what you're doing, that dusty roller in the corner of your room can look an intimidating bit of kit.
If that sounds familiar, read on and let the good times roll.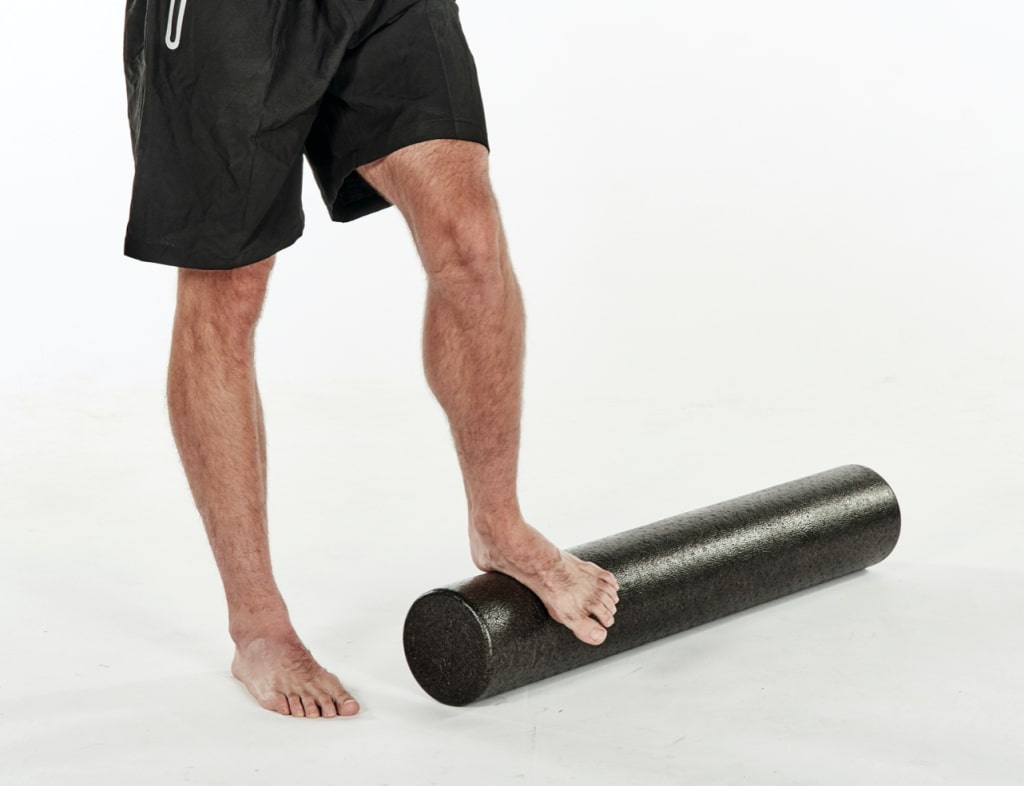 Feet 
Begin rolling from the toes and gradually work your way back towards your heel. (You may need to use a lacrosse ball, a tennis ball or even a golf ball to reach any tiny spots that the roller can't get to.)
Roll your foot backwards and forwards about an inch or two at a time, while also rocking your foot from one side to the other.
Whenever you find a painful spot, you can either stay still on that point for 5-30 secs or simply roll that area for the same amount of time before moving on.

Shins
On all fours and with one shin on the roller, begin from the bottom of your shin and work your way up – moving left to right across your shin as you roll.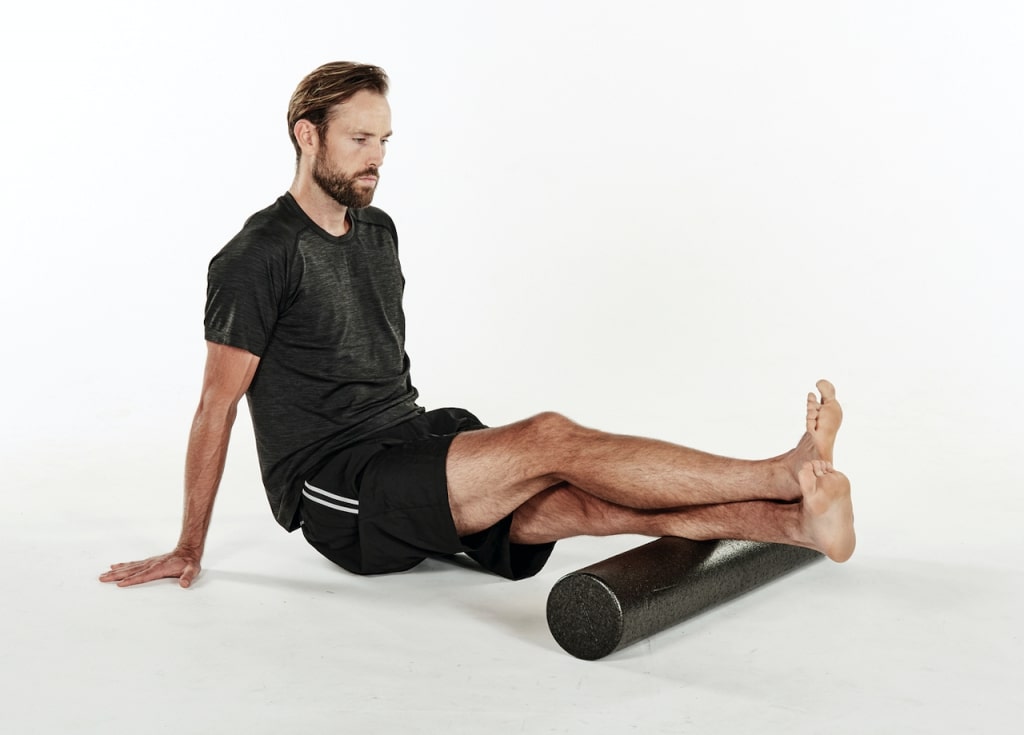 Calves
Begin at your achilles and have one leg resting on top of the other. 
Work your way up your calf, stopping just before the knee.
Remember to roll your calf left and right as you go from bottom to top.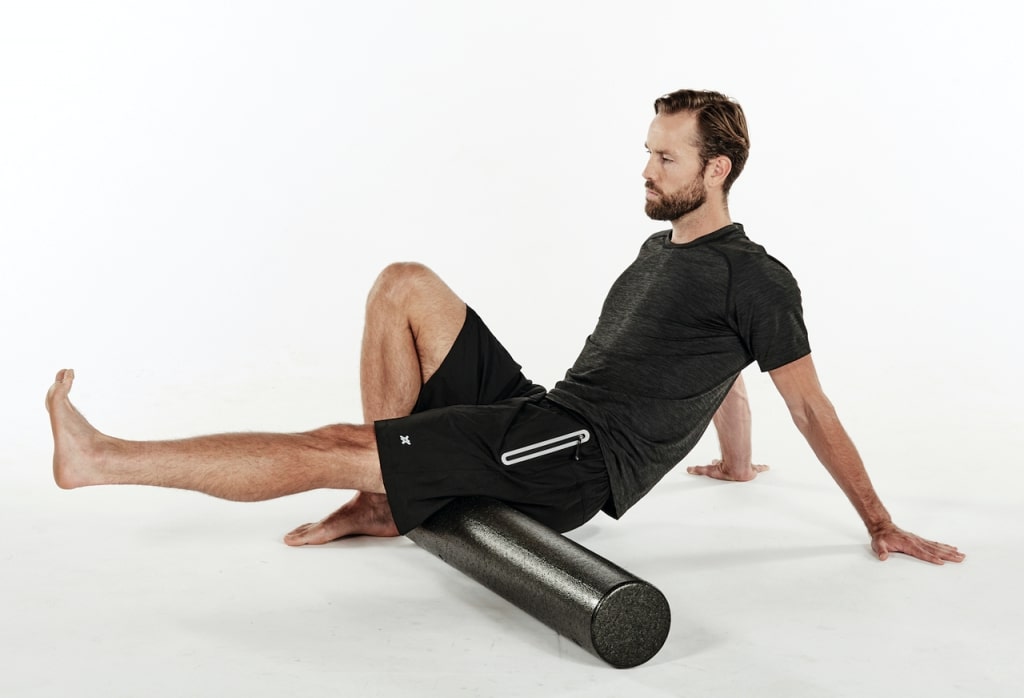 Hamstrings
Start with the roller under one leg just above the knee. 
Slowly roll your way up towards your backside, moving your leg left and right as you go.
Always look for painful spots to work on and release.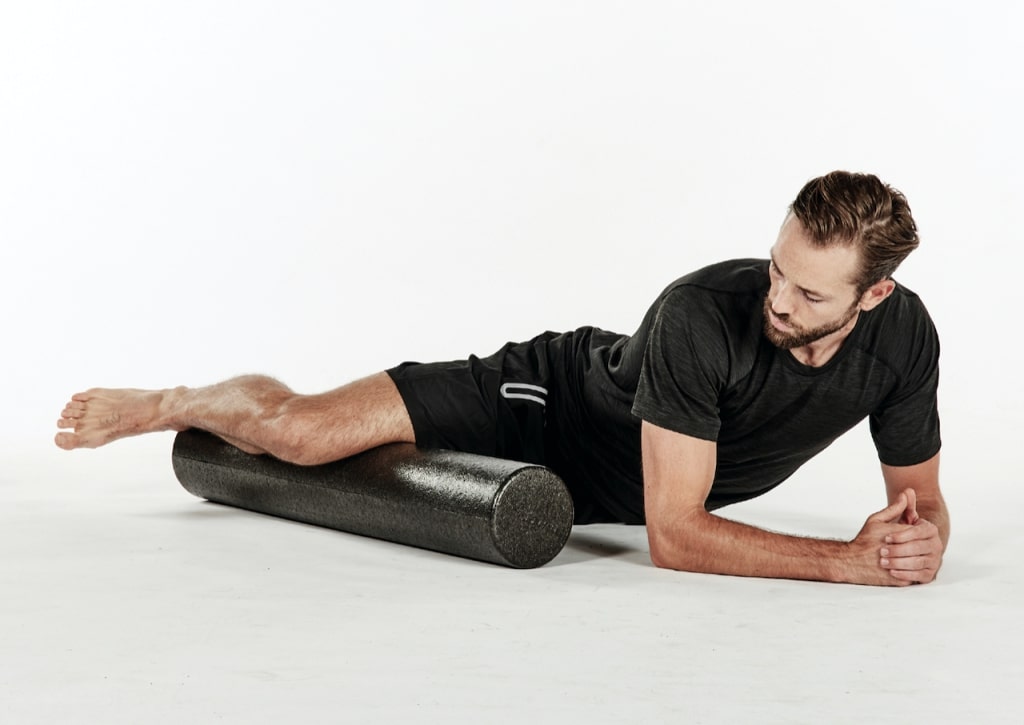 Adductors
On your front, bend one knee out to the side and just above hip height. 
Begin rolling from just above the knee in the same gradual forward, backward motion, gradually making your way along your leg and up to your hip.
Lift your foot up off the floor and down as you go.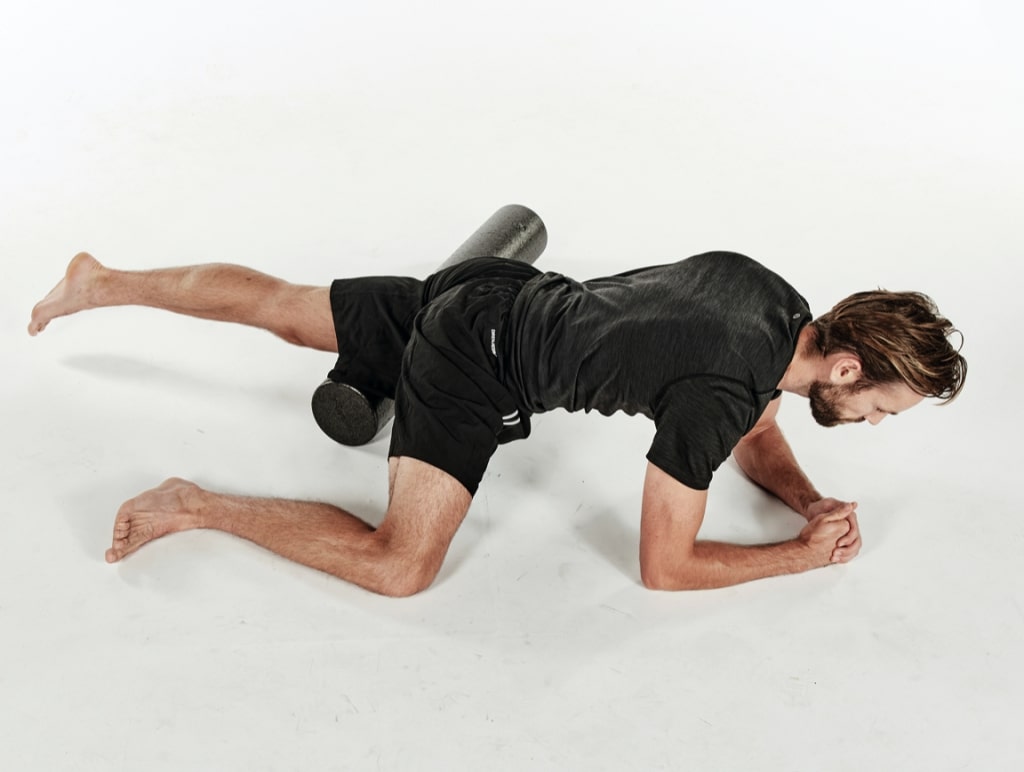 Quads
Lie on your front with one leg on the roller just above the knee and one leg bent to the side. 
Gradually work your way up to your hip while moving your leg from left to right.
ITB
A notoriously painful spot to roll – especially for runners – this one might require you to grit your teeth and get it done. 
So, take a deep breath and begin by lying on your side with the foam roller underneath your leg, just above the knee.
Use your arms for support and put your other leg in front of you with your foot on the ground.
Now, start rolling forward and back across a small area at a time, while gradually moving up and along your leg towards your hip. Remember to turn your hip forwards and backwards slightly as you go.
Glutes
Sit on the foam roller and turn slightly to one side.
Whatever side you turned towards, lift that leg up and rest your shin across the other leg.
Have your hands behind you for support and begin rolling the area.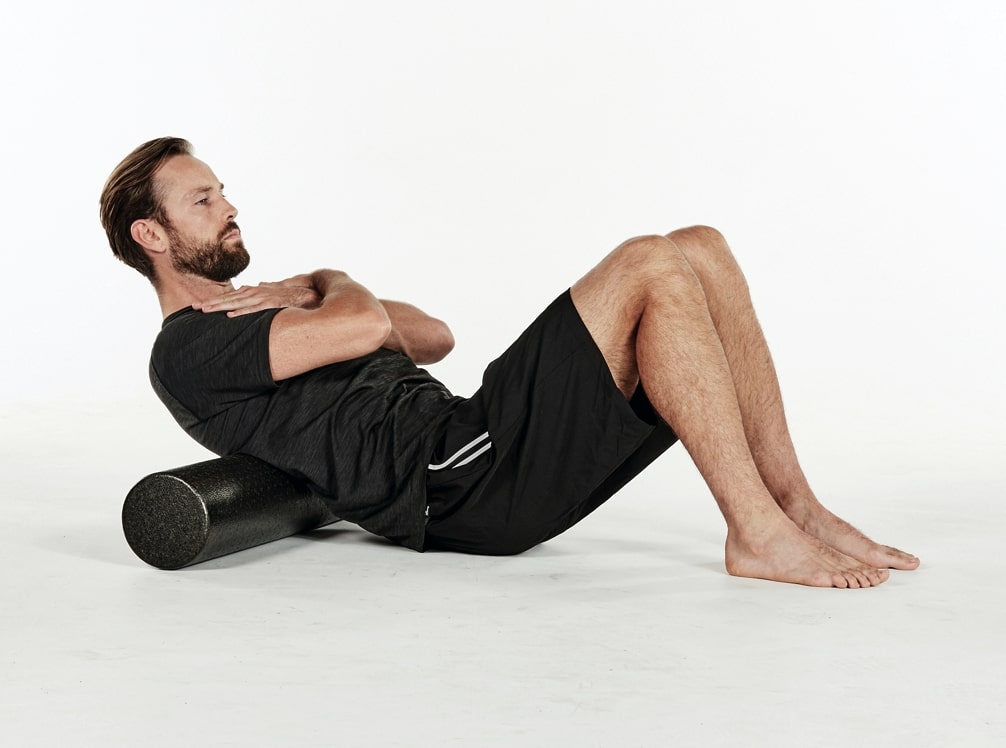 Back
Start in the position shown with one leg out straight, one leg bent, one arm behind you and favouring one side of your lower back. 
Work that side for a while and then change to the other side.
Now, with the foam roller slightly further up your back, have both legs bent on the ground and your arms crossed in front of you.
Gently roll along your back favouring one side and then the other as you go.
Once you've made your way all the way up towards your upper back, finish the move by having the roller in your mid-back, keeping your hips in contact with the ground and reclining back over the roller.
'Relax' there for a while and concentrate on your breathing.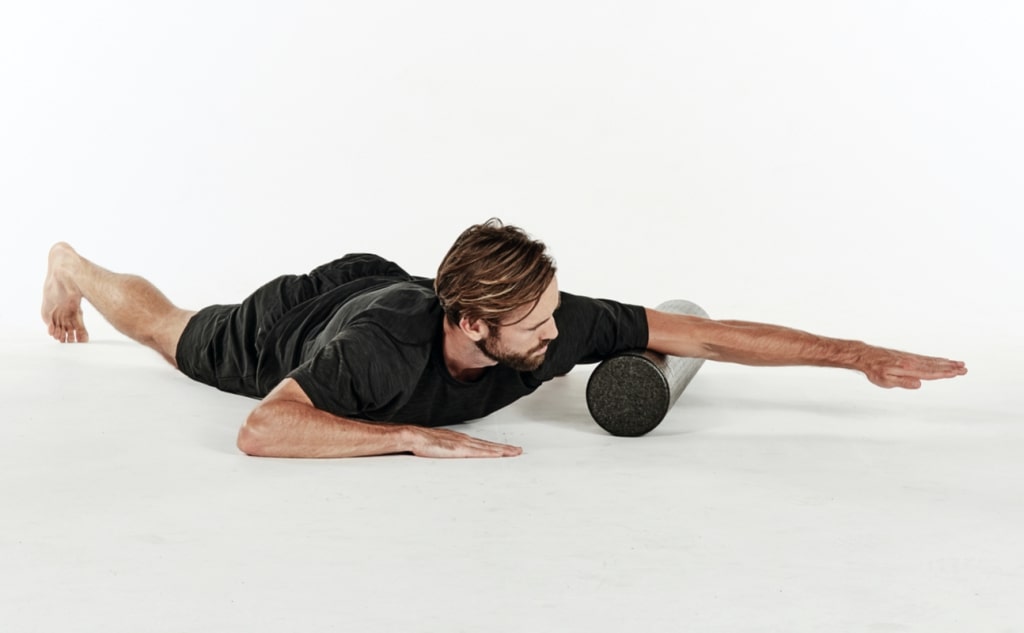 Pecs
Lie with your stomach on the floor in whatever position feels comfortable.
Have the foam roller under the inside of your upper arm.
Begin rolling up towards your armpit while turning your arm left, right, up and down.
You can change the angle of the roller and move around as you wish. Just do your best to get into your pecs and give them a good roll.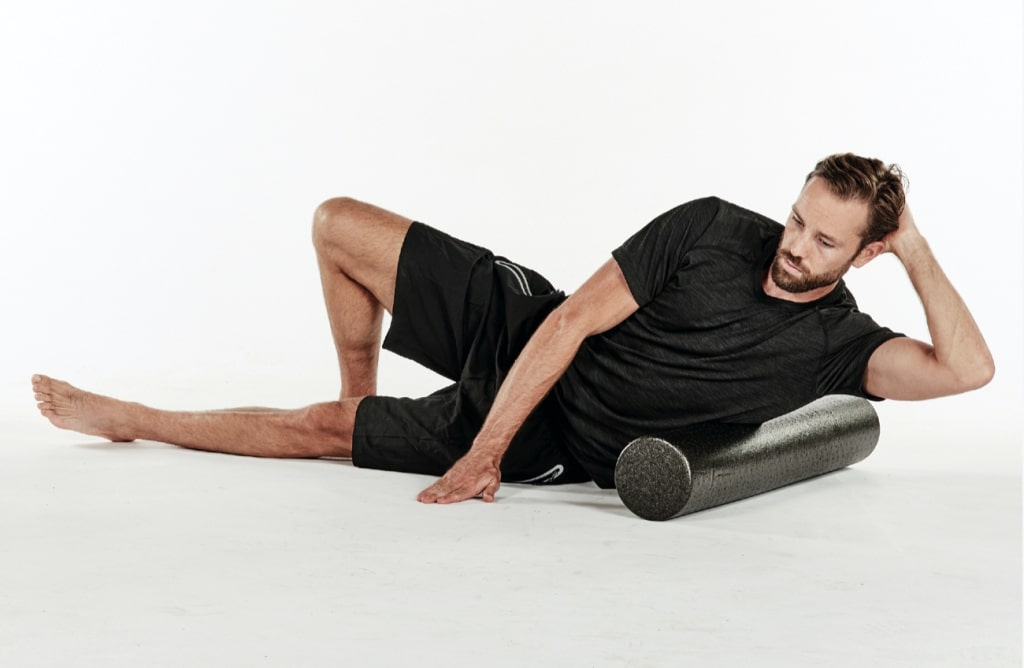 Lats
Lie on your side, with the foam roller up towards your armpit. 
Slowly roll towards the armpit while moving your torso left and right, and changing the position of your arm.
Keep looking for tender spots to go to work on.
Workout compiled by online PT and weight-loss coach Luke Grainger @MrLukeGrainger