We tried the latest vegan protein bars to bring you our pick of the best dairy-free & plant-based fuel to power your post-workout recovery…

Best vegan protein bars: My Vegan Carb Crusher

£21.99 (box of 12), myvegan.com
OK, so there are vegan protein bars with fewer ingredients on this list.
But My Vegan's Carb Crusher (available in Peanut Butter, Chocolate Sea Salt, and Chocolate Orange) gets the MF seal of approval for its balance of protein – a better-than-average 15g per bar – and first-rate flavour.
Post-workout recovery has rarely tasted so good.
Taste: 4.5/5
Health: 3/5
Protein: 4/5
OVERALL: 4.5/5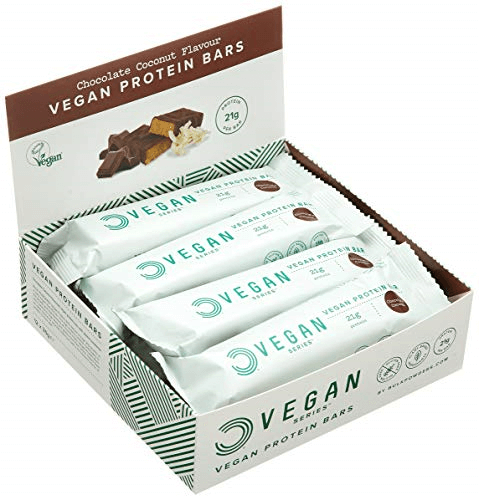 Second best vegan protein bars: Bulk Powders Vegan Protein Bar
£1.86 (per bar), bulkpowders.co.uk
Some might find these slightly too chalky in texture, and the sizeable 279 calories can't be ignored, but that shake-matching protein count is difficult to beat.
If you find protein shakes hard to stomach, or you just need a more convenient post-workout option, give these a go.
Taste: 3.5/5
Health: 3.5/5
Protein: 5/5
OVERALL: 4/5

Pulsin Peanut Choc Protein Booster
£32.22 (box of 18), pulsin.co.uk 
Pulsin's Protein Booster contains an optimum blend of pea and rice protein for a complete amino acid profile, and the Peanut Choc flavour is up there with the best vegan protein bars we had the not-so-tough task of sampling.
Each bar comes in at 231kcal, with 12.1g of protein. 
Taste: 4.5/5
Health: 4/5
Protein: 3/5
OVERALL: 4/5

Nutramino Nutra-Go

£19.99 (box of 15), bodyandfit.com
If you're looking to replace your post-training shake, this bar's 10g protein content isn't quite going to cut it, but for a recovery-assisting mid-afternoon snack there are few better options.
That's thanks largely to its barely-there 140 calories.
The Sea Salted Nuts flavour gets our vote.
Taste: 3/5
Health: 4.5/5
Protein: 2.5/5
OVERALL: 3/5

PhD Smart Bar Plant

£2.50 (per bar), phd.com
With a chart-topping 23g of protein bar, look no further than PhD if that's the only factor you're interested in when looking for the best vegan protein bars.
The texture won't be to some people's liking, but you do get used to it – and those recovery credentials make a bit of perseverance worth your while.
Taste: 2.5/5
Health: 4/5
Protein: 5/5
OVERALL: 3.5/5

My Vegan Pea-Nut Square

£19.99 (box of 12), myvegan.com
Free from the stodge or heaviness of some protein bars, the Pea-Nut Square is pleasantly filling without making you need a lie-down after eating.
The 12g of protein is a bit less than My Vegan's other offering in this roundup, but still makes for decent muscle fuel alongside your afternoon brew.
Taste: 3.5/5
Health: 3/5
Protein: 3/5
OVERALL: 3/5

Grenade Go Nuts Peri Peri Bar
£26.85 (box of 15), grenade.com
Fibre and antioxidants are thrown into the mix, as well as 11g of protein, but there's no denying the love-it-or-hate-it Peri Peri flavour will divide opinion.
We're in need of some convincing, but if you're sick of overly sweet bars this might be the one for you.
Taste: 2.5/5
Health: 4/5
Protein: 3/5
OVERALL: 3/5
RELATED CONTENT: