Keep out the worst of winter with cold-beating baselayers combining warmth with close-fit comfort.

MF BEST BUY:
Runderwear Running Baselayer
£50, runderwear.co.uk
As comfy as they come, Runderwear's Running Baselayer was made with cold-weather outings in mind.
Dynamic heat control provides the warmth, without becoming too stuffy, and the technical moisture-wicking fabric prevents sweat form sticking to your skin.
Uniquely, the top also comes equipped with built-in roll-over mitts to protect your hands on those early-morning runs.
Comfort: 5/5
Warmth: 4.5/5
Wicking: 4.5/5
OVERALL: 5/5

MF RECOMMENDED:
Finisterre Bora Bamboo Baselayer
£45, finisterre.com
Made with a vegan alternative to Merino wool and a new kind of bamboo fabric, this is one of the snuggest baselayers we tested, with supreme next-to-skin softness and real warmth without over-restriction.
Finisterre is all about functional, sustainable outdoor gear, and this top – which is naturally breathable, temperature-regulating, antibacterial and moisture-wicking – combines premium performance qualities with planet-friendly design.
Comfort: 5/5
Warmth: 4/5
Wicking: 4.5/5
OVERALL: 4.5/5

Le Col Unisex Pro Mesh Long Sleeve Base Layer
£65, lecol.cc
Le Col specialises in serious cycling kit made from premium materials, and this baselayer continues that high-performance theme.
Woven in one complete piece to eliminate seams means it sits under outer-layers without irritation, while breathability and warmth are provided with the Pro Mesh construction and long-sleeve coverage, respectively. Less importantly, it looks the business.
Comfort: 4/5
Warmth: 4.5/5
Wicking: 5/5
OVERALL: 4.5/5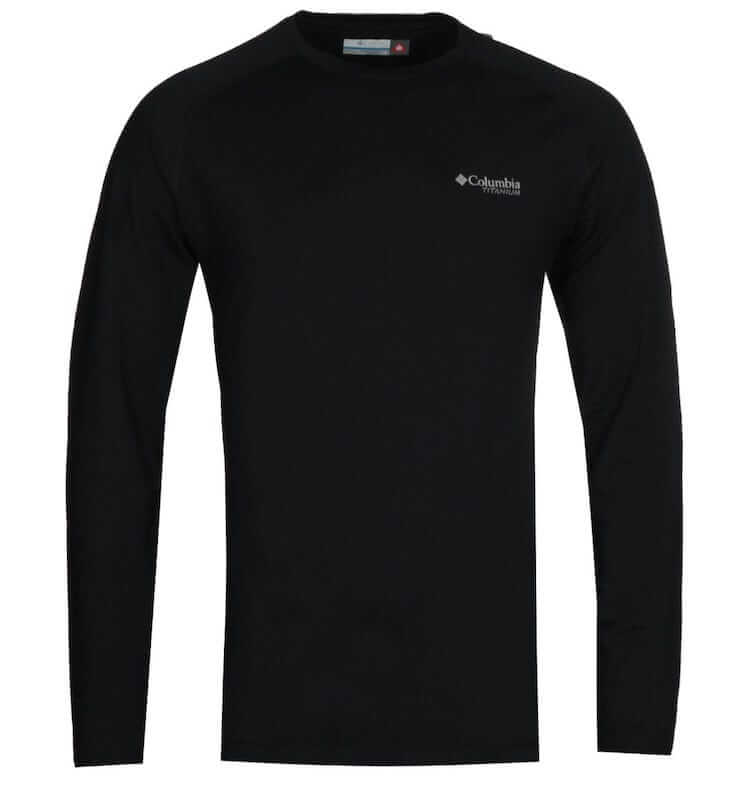 Columbia Omni-Heat 3D Knit Crew II Baselayer
£70, columbiasportswear.co.uk
An all-purpose baselayer just as at home halfway up a mountain as it is blocking out stiff headwinds on a spin round the block, this heat-locking long-sleeve features Omni-Heat 3D tech to reflect body heat back the way it came.
Four-way stretch fabric brings the comfort, and antimicrobial treatment does a decent job of keeping sweat smells at bay. Another good-looking bit of kit, too.
Comfort: 4.5/5
Warmth: 4.5/5
Wicking: 3.5/5
OVERALL: 4/5

Megmeister DRYNAMO Winter Long Sleeve Base Layer
£64.95, shop.megmeister.com
DRYNAMO technology is designed to control the flow of sweat to keep skin dry and your body in a temperature equilibrium. That works well during low-intensity training, but when you're working hard it's difficult to notice much of a difference.
But while overheating could be an issue on mild days, when it's Baltic outside this top comes to the fore, with top-notch thermal insulation to keep out the worst of the cold.
Comfort: 4/5
Warmth: 4.5/5
Wicking: 3.5/5
OVERALL: 4/5

Enertor Unisex Base Layer
£64.99, enertor.com
If you like your baselayers to squeeze and support, Enertor's does a fine job of being both breathable and relatively comfortable while it clings to your torso.
Advanced Nilit® Innergy is supposed to reduce lactic acid build-up by converting the body's energy into Far Infra Red Rays, which is difficult to judge, but any fans of compression will ergonomic fit and seam-free comfort.
Comfort: 3.5/5
Warmth: 4.5/5
Wicking: 3.5/5
OVERALL: 3.5/5

Nike Pro Long-Sleeve Top
£31.95, nike.com
Nike's slick good looks are on display here, but the Pro Long-Sleeve lacks some of the more technical features boasted by other tops in this list.
That said, if you're looking for a simple baselayer that's comparatively cheap and easy on the eye, you could do a lot worse than this. Lightweight, stretchy fabric moves as you do, and Nike Pro technology wicks away sweat.
Comfort: 4/5
Warmth: 3.5/5
Wicking: 3.5/5
OVERALL: 3.5/5