You can't improve what you can't measure. That's why a reliable fitness watch is a powerful tool for setting, chasing and achieving your fitness goals. Today's trackers offer real-time coaching to guide your training, benchmark your progress and let you know when it's time to go hard or back off. 
But the latest generation of smart fitness watches also go beyond simply measuring performance on the run, ride or in the gym. These holistic tools help you take charge of every aspect of your health, monitoring those all-important foundations of fitness with 24/7 heart rate reads, sleep, stress and recovery insights.
Whether you're just looking to move a bit more, or you want to squat double your own bodyweight, here are the best timepieces bringing intelligence to your training.
MF BEST BUY:
COROS Pace 2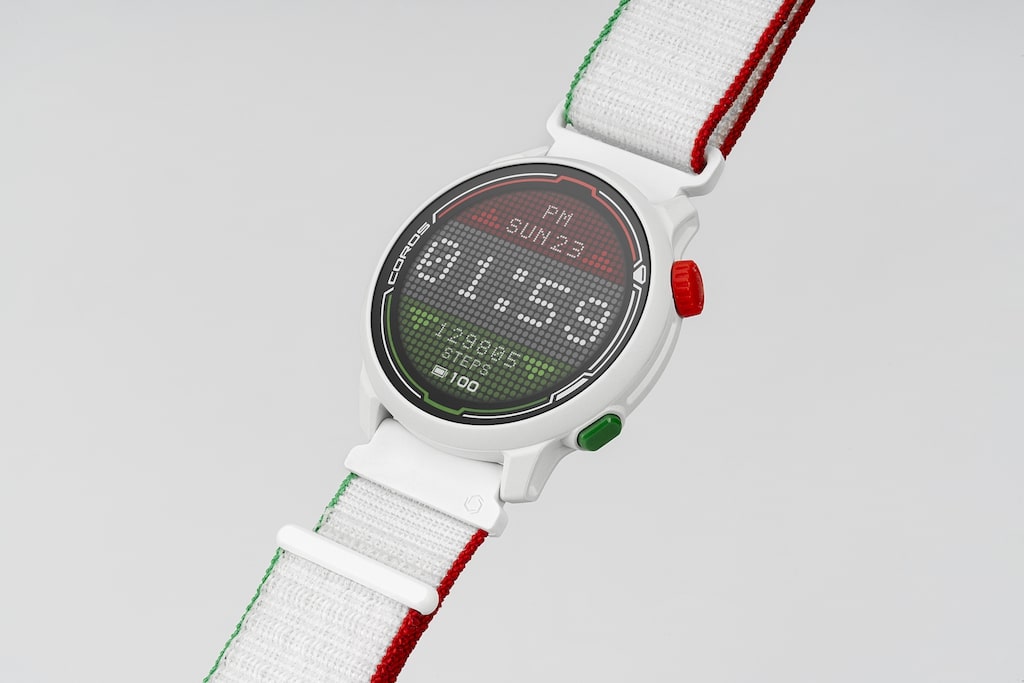 £179.99, uk.coros.com
The COROS Pace 2 isn't the prettiest, smartest or even most fully featured watch, but for under £200 you won't find a training partner that offers as much bang for fitness buck. Its 30-hour GPS battery life extends up to 60 in low-power mode and at this price it offers unrivalled training time on a single charge.
Waterproof to 50m, it also packs a bigger suite of sensors than you usually find at this level, including optical heart rate, barometric altimeter, compass and thermometer. It also tracks everything from indoor bike sessions to open-water swimming – it even has a triathlon mode, something other brands often hold back for pricier models.
For lifters and gym-goers, the Pace 2's strength training coach automatically detects your moves with a degree of reliability, and there are ready-made expert training programmes and more than 200 pre-programmed drills. Post-beasting, a handy muscle heatmap shows you where the DOMS is likely to hit hardest, while recovery time recommendations help you decide when and how hard to go again.
At 29g, it's light on the wrist while still packing a decent 240 x 240 pixel colour display. The nylon strap option is infinitely more comfortable and ideal for the all-day wear required to unlock the health, sleep and heart rate tracking smarts that underpin an effective training approach.
Design: 4
Insights: 5
OVERALL: 5
MF RECOMMENDED:
Huawei Watch GT3 Active
From £209.99, huawei.com 
As more affordable, non-Apple smartwatches go, the GT3's fitness credentials are right up there. It offers essentials like built-in optical heart rate, all-day blood oxygen monitoring, and sleep and stress tracking. All that's alongside some unique skills like accuracy-boosting dual-band, five-satellite system GPS-tracking, and an AI-run coach, complete with training plans and training load.
It plays nice syncing data with compatible gym cardio machines, too, and heavy users can expect eight days' tracking on a single charge. There's a choice of 42mm and 46mm, and the bright AMOLED colour touchscreen looks the part. It works with Android and iOS phones.
Design: 4.5
Insights: 4.5
Overall: 4.5
Apple Watch 7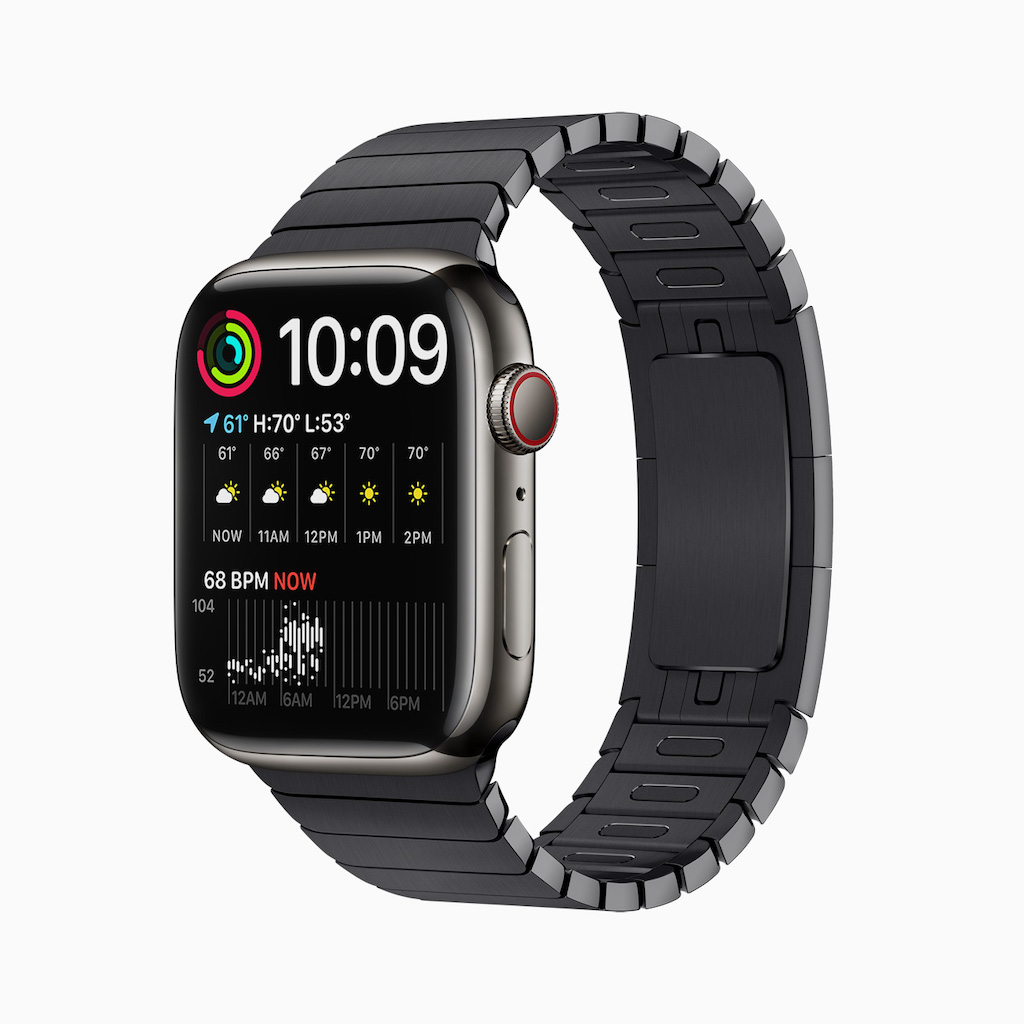 From £369, apple.com
If you're a paid-up member of Team iPhone and want a smartwatch that doubles as a fitness tool, you can't really beat the Apple Watch. Its smartwatch skills are unrivalled and its fitness credentials improve with each edition. The Series 7 adds minor updates like automatic detection for cycling, better durability with a crack-resistant crystal display and water resistance up to 50m. Its impressive array of third-party fitness apps give you hundreds of training tools with everything from run coaching to follow-along calisthenics workouts.
Add in blood oxygen and ECG health skills, plus three months of Peloton-rivalling Apple Fitness+ for free, and it's an enticing option. The 18-hour battery life still won't rival regular fitness watches, but improved rapid charging does help.
Design: 5
Insights: 4
Overall: 4.5
Polar Grit X Pro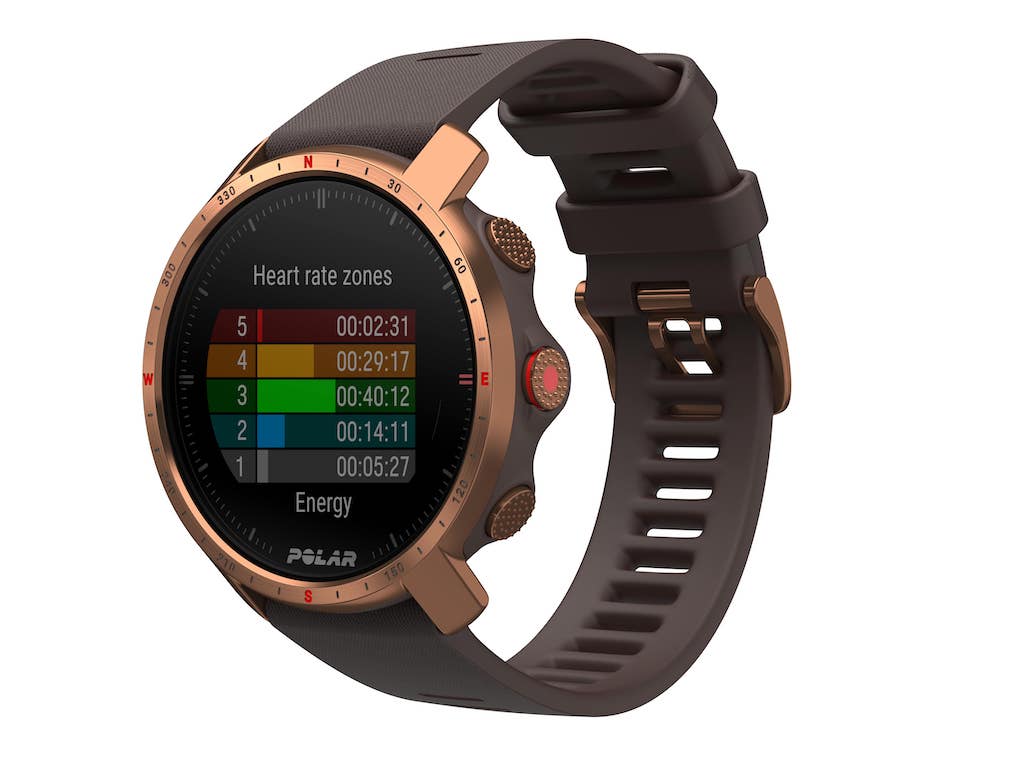 £439, polar.com
The Grit X Pro has all the training insights and recovery smarts you'll find on Polar's other watches,  including daily FitSpark workout recommendations, nightly recharge overnight recovery readouts, built-in GPS and optical heart rate tracking. But this tracker really excels when things get a bit more wild.
Its swim-proof 1o0m water resistance and a military-grade toughness rating is backed up by improved turn-by-turn navigation, so you can push further and still get home. We also love the dedicated tests that benchmark your running and cycling performance, and recovery tests that add a layer of insights to your training decision making.
Design: 4
Insights: 3
Overall: 3.5
Withings Scanwatch Horizon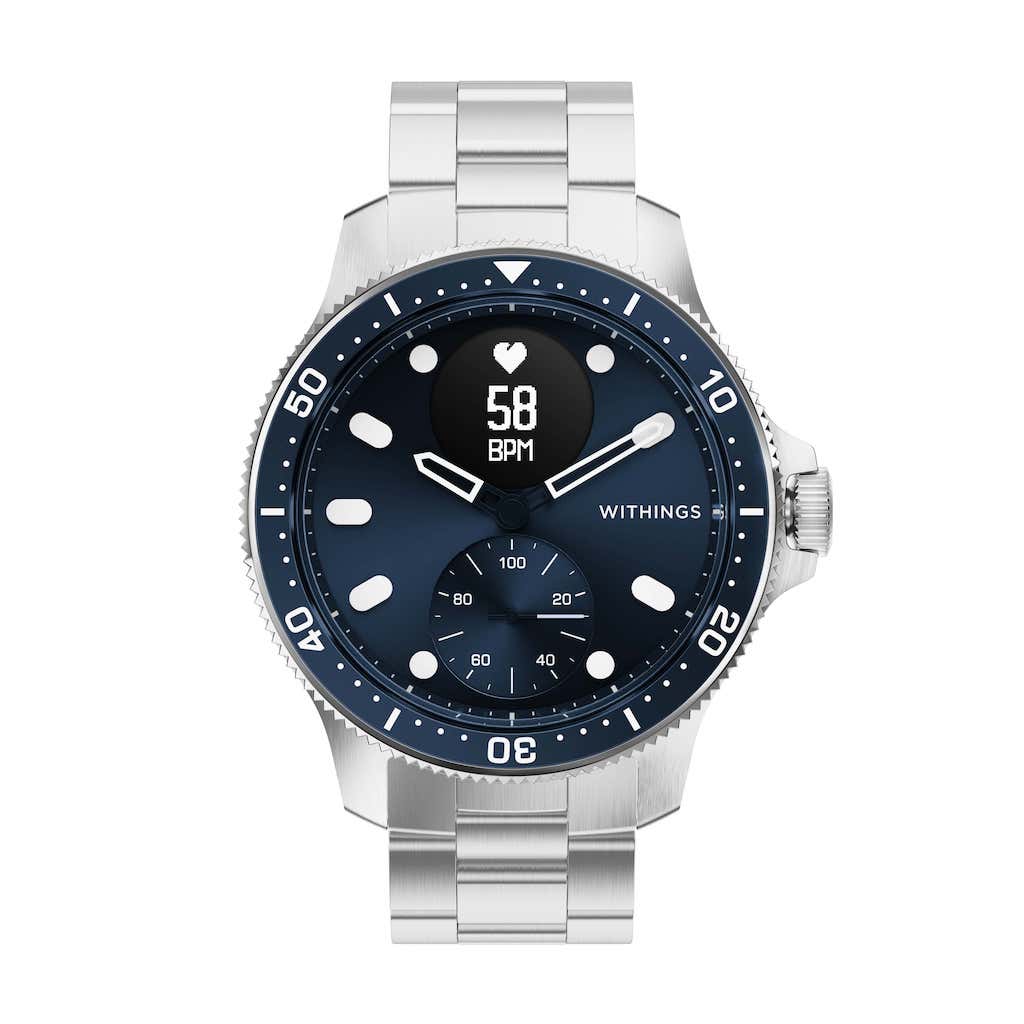 £374.96, withings.com
More of a health tracker than an out-and-out fitness training partner, the Scanwatch Horizon puts its day-to-day wellness tracking into the slick and sophisticated design of a traditional timepiece. Beneath that sharp, steel chassis is one of the best heart health monitors going, with a built-in optical sensor and a bezel-based ECG test, along with a pulse oximeter for blood oxygen levels, and advanced sleep tracking with sleep stages and overnight recovery.
When it's time to get active, there are 30 sport modes with smart workout detection. However, runs and rides rely on your phone's connected GPS for pace, distance and mapping, and most of the detail beyond the basics is in the excellent Withings partner app rather than on the watch.
Design: 4
Insights: 3
Overall: 3.5
Garmin Enduro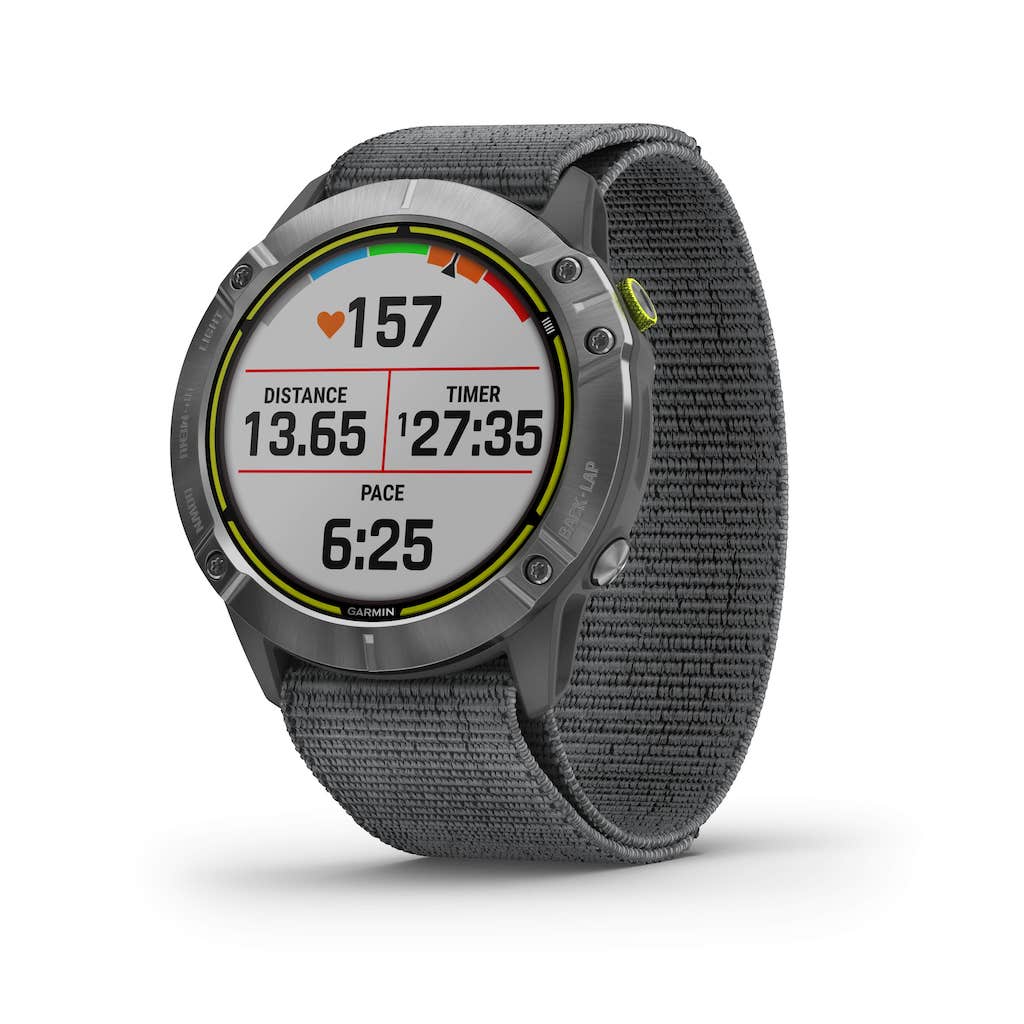 £649.99, garmin.com
If feats of lengthy running, cycling, climbing or swimming endurance are your fitness bag – or you just hate charging your watch – the rugged Enduro is an excellent all-rounder. Its full GPS battery life promises up to 80 hours, extendable to 300 in lower accuracy UltraTrac mode. Solar skills help slow the burn rate and even with an hour-a-day's training you'll only need to charge this once a month.
Beyond that mega battery, its training and fitness tools include suggested daily workouts, fitness performance tracking with VO2 Max, a recovery time advisor, heat and altitude acclimation, plus sleep, stress, hydration, breathing and blood oxygen monitoring.
Design: 3.5
Insights: 3.5
Overall: 3.5
Garmin Forerunner 55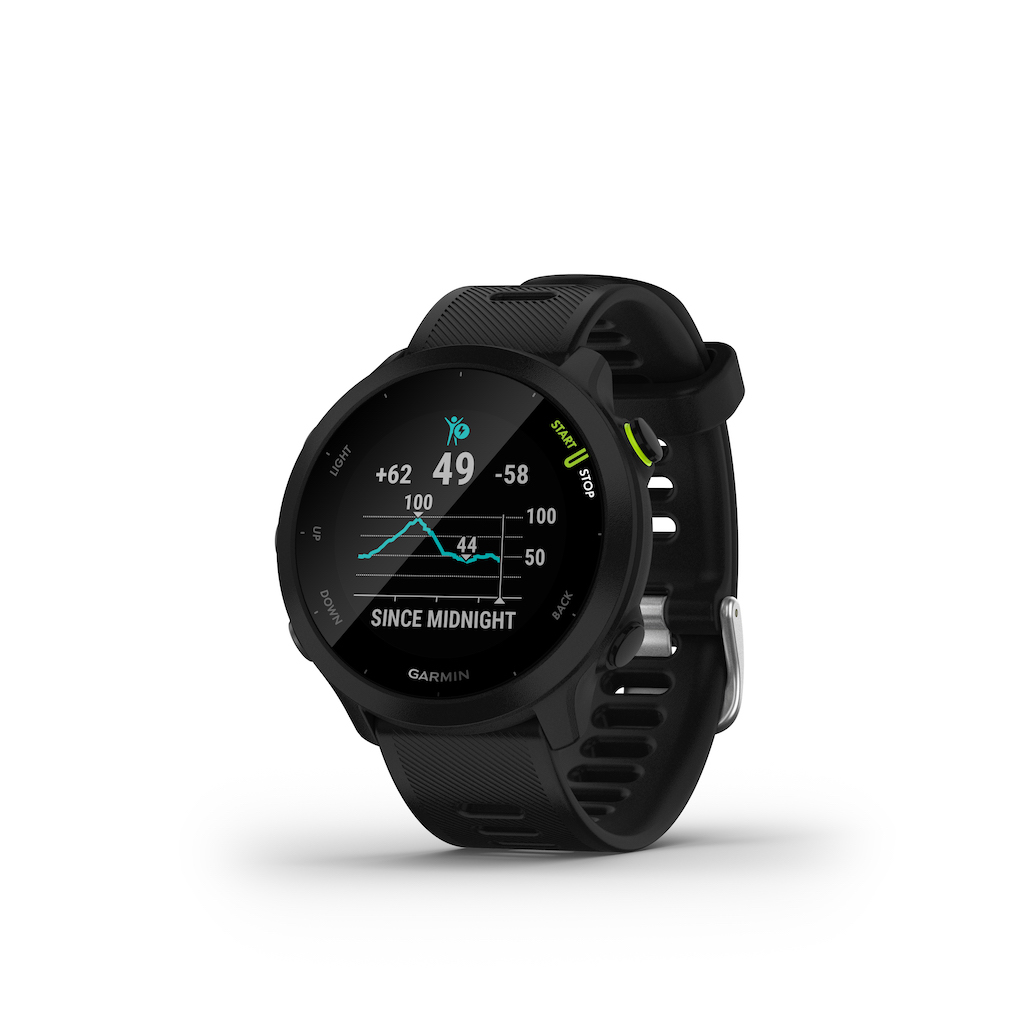 £179.99, garmin.com
It's called a Forerunner because of its very capable – and nicely simplified – run-tracking skills. But Garmin's lightweight, entry-level sports watch actually offers a solid all-round fitness package for under £200. Particularly if you want a more compact design and need coaching and motivation.
A Suggested Workouts feature recommends watch-guided runs and training sessions tailored to you, so it's easy to stitch together fitness-boosting streaks. You also get built-in optical heart rate tracking, Fitness Age estimates, sleep, stress and breathing rate. The Forerunner also boasts a battery life that'll happily survive two weeks of training, if you're getting your sweat on three to four times a week.
Design: 3
Insights: 3.5
Overall: 3.5
Samsung Galaxy Watch 4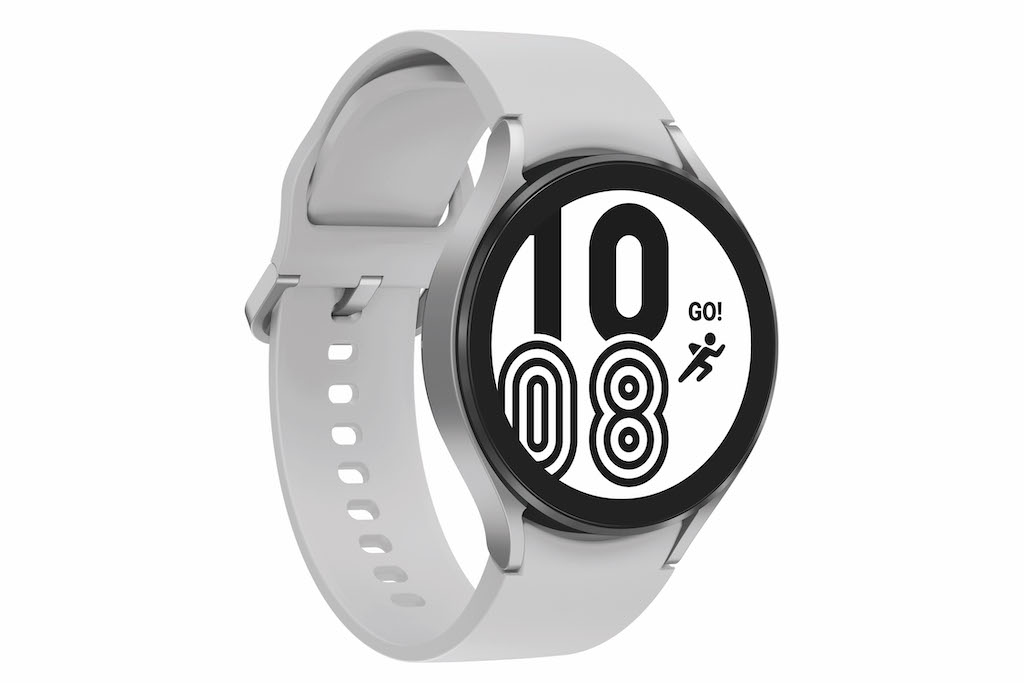 From £249, samsung.com
Keeping an eye on shifts in your body fat, body water and skeletal muscle ratios can be useful for spotting if you're moving towards your fitness goals. And the Android WearOS-powered Galaxy Watch 4 is the first to measure this body composition metrics from your wrist. Its three-in-one bioactive sensor tracks optical heart rate, electrical heart and Bioelectrical Impedance Analysis – the same technology used by smart scales to track changes in body composition.
You also get 90 sport modes, built-in GPS and health essentials like sleep tracking, though battery life is short and key features like the ECG readings only work with Samsung phones.
Design: 3
Insights: 3
Overall: 3
Words: Kieran Alger