Whether you're lifting heavy, spinning a set on the stationary bike or running around your local park, sticking on some music has proven performance benefits. The right backing tracks can delay fatigue and boost mental toughness to squeeze your effort levels higher.
And the latest super minimal sweatproof, true wireless buds can withstand the rigours of a workout, too, with motivational sound quality, big endurance battery life and beefed-up durability.
Here's our pick of the best…
MF BEST BUY:
Jaybird Vista 2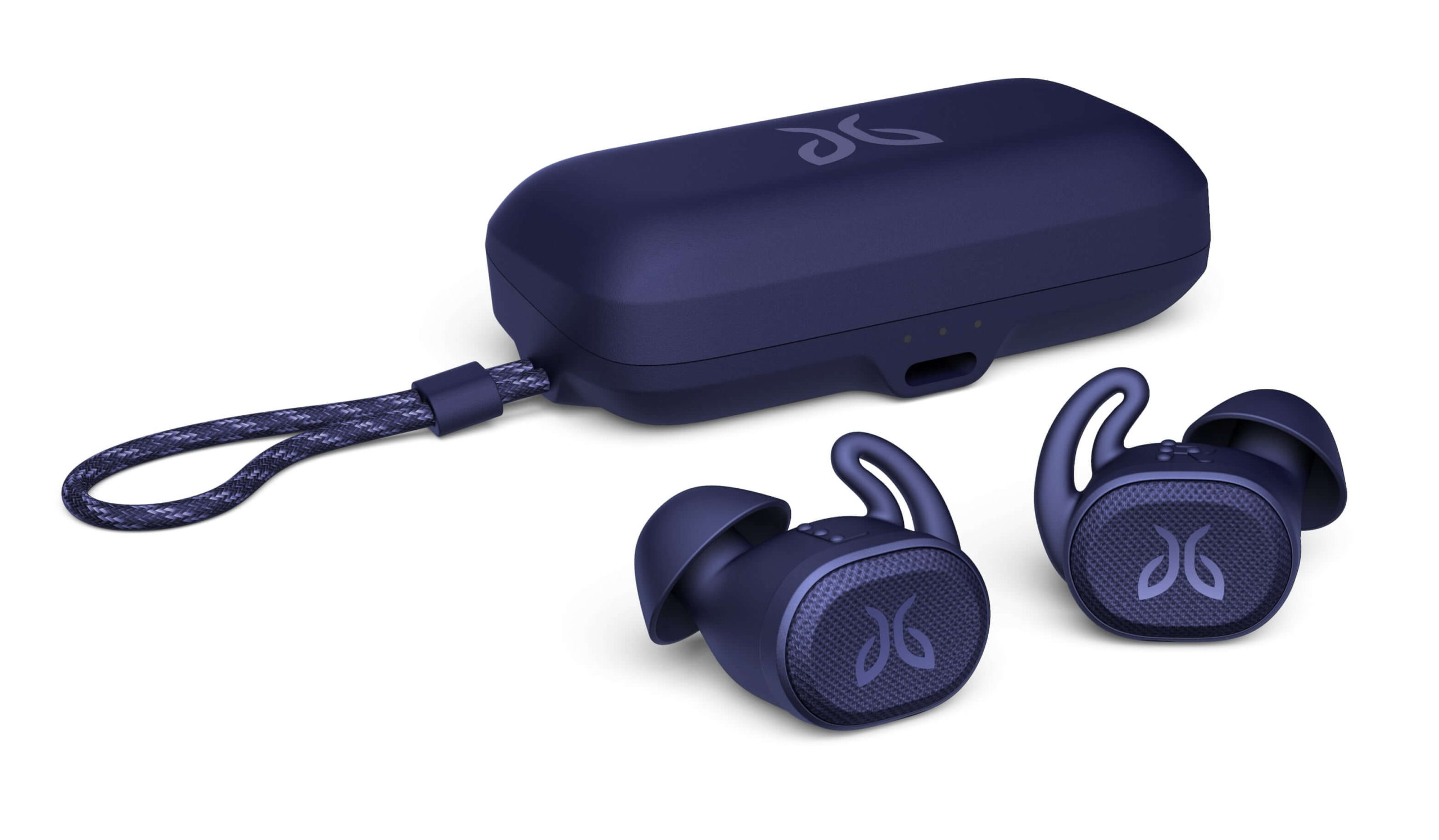 £189.99, jaybirdsport.com
Jaybird has an excellent track record for sports headphones built to withstand everything the outdoors – or the gym floor – throws at you. The Vista 2 follows a winning formula: big eight-hour battery life, solid customisable sound and secure, comfortable wingtip fit. But there are notable new smarts, too.
This tweaked version now comes with even more total playback time – 24 hours with the case – military-grade durability buds and a weatherpoof case, plus new Active Noise Cancellation (ANC).
The audio performance is pleasingly solid: rich and full, with plenty of bass, a meaty top volume and excellent customisation in the partner app. That includes a personalised hearing test and the option to create and store different sound profiles to suit your settings.
The 24-hour total workout time in the buds and case means you only really need to charge these once a month – though in our tests, we didn't quite get that official battery billing. One 45-minute run burned through 10%, while another 90-minute run rattled through 30% with ANC on. And it's clear with ANC you'll take a hit.
The durability is impressive, though with an IP68 rating that means they're water-, sweat-, dust-, drop- and crush-proof. We left them in a sink full of water for 30 minutes, dropped them on a pavement and walked on them – repeatedly – and they survived. The compact, highly portable case is also downpour-proof, making the Vista 2 ideal for long days out and wilder outdoor fitness pursuits.
Fit: 4.5/5
Sound: 5/5
Overall: 5/5
MF RECOMMENDED:
Nothing Ear 1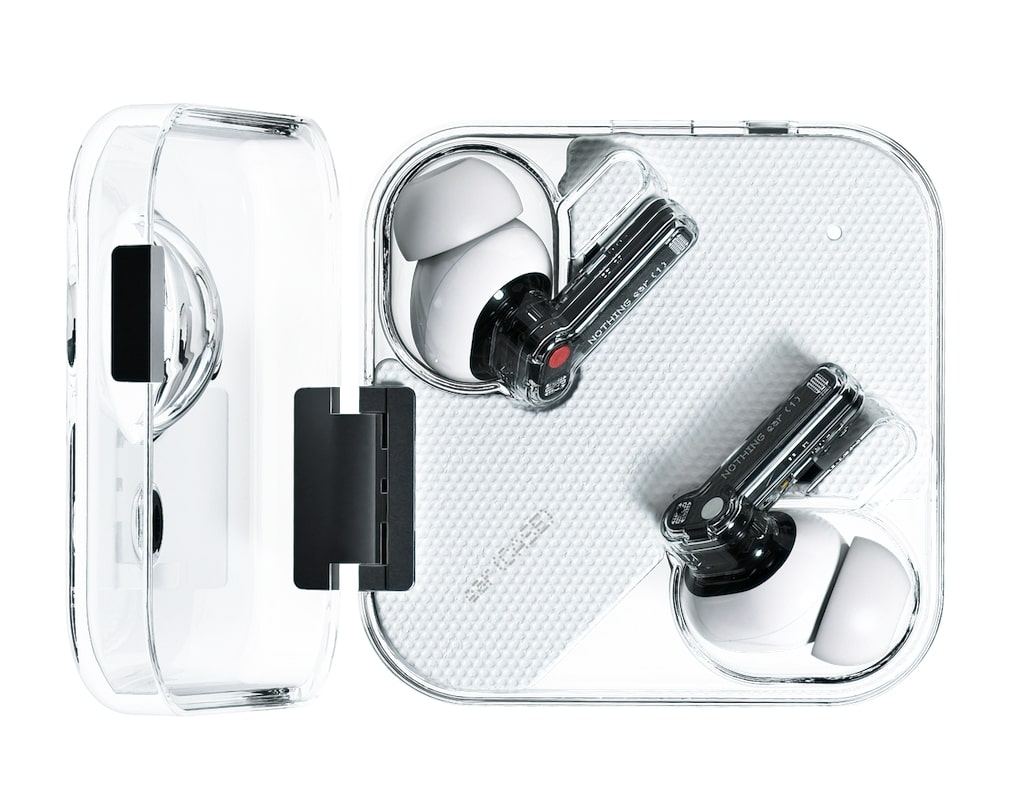 £99, nothing.tech
A wallet-friendly rival to Apple's AirPods and AirPods Pro, the Ear 1 pack five hours of workout time on the buds and a further Apple-beating 29 hours in the case. That's a combined 34-hours' staying power, that puts the workout time right up there with the longest lasting true wireless earbuds.
They're light and lock relatively tight in the ears. The sound, ANC and awareness modes aren't world-beating, but overall these kick out rich, full bodied tunes and the transparent design gives them some unique style swagger. An excellent budget option.
Fit: 4/5
Sound: 4/5
Overall: 4.5/5
Beats Fit Pro
$199, beatsbydre.com
The ear-gripping, wing-tipped Beats Fit Pro are like Airpods Pro sound meets fitness-friendly design. They pack the same H1 headphone chip you find in Apple's buds. That's used to power Adaptive EQ that automatically tweaks the audio to your surroundings, plus ANC, transparency mode and a clever spatial sound feature which uses gyroscopes and accelerometers to sense where you're looking in relation to the audio action for a 360-degree listening experience.
You get a competitive seven-hour battery life with an additional 23 hours in the case. The buds are also sweat- and water-resistant, though the chunky case isn't. And there's no wireless charging.
Fit: 4.5/5
Sound: 4/5
Overall: 4.5/5
B&O Beoplay E8 Sport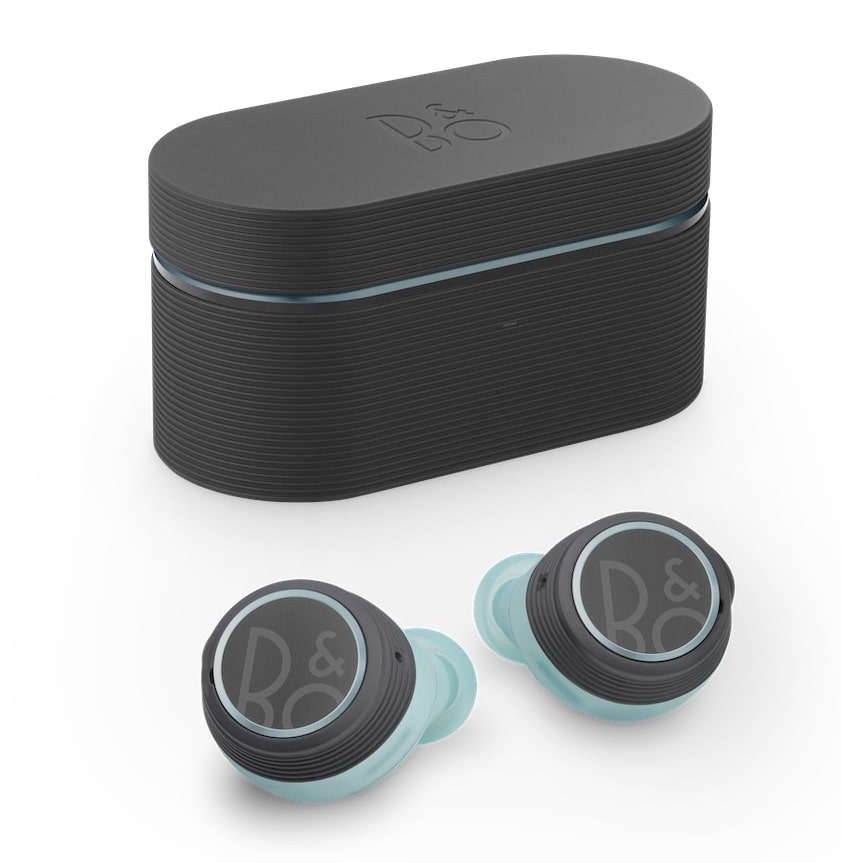 £300, bang-olufsen.com
B&O's eye- and ear-pleasing waterproof and sweat-resistant buds pack style and substance. If you've got big bucks, the E8 pump out some of the best EQ-customisable sound we've heard on a set of true wireless headphones. Despite a slightly smaller wing tip and a fairly protruding design, they fit surprisingly tight and don't shake loose when workouts get bumpy.
There's sadly no ANC or awareness modes, or Find My Buds tracking, but they support wireless charging and you get seven hours of workout tunes on the buds and a total of 30 with the case.
Fit: 4/5
Sound: 4/5
Overall: 4/5
BOSE Sport Earbuds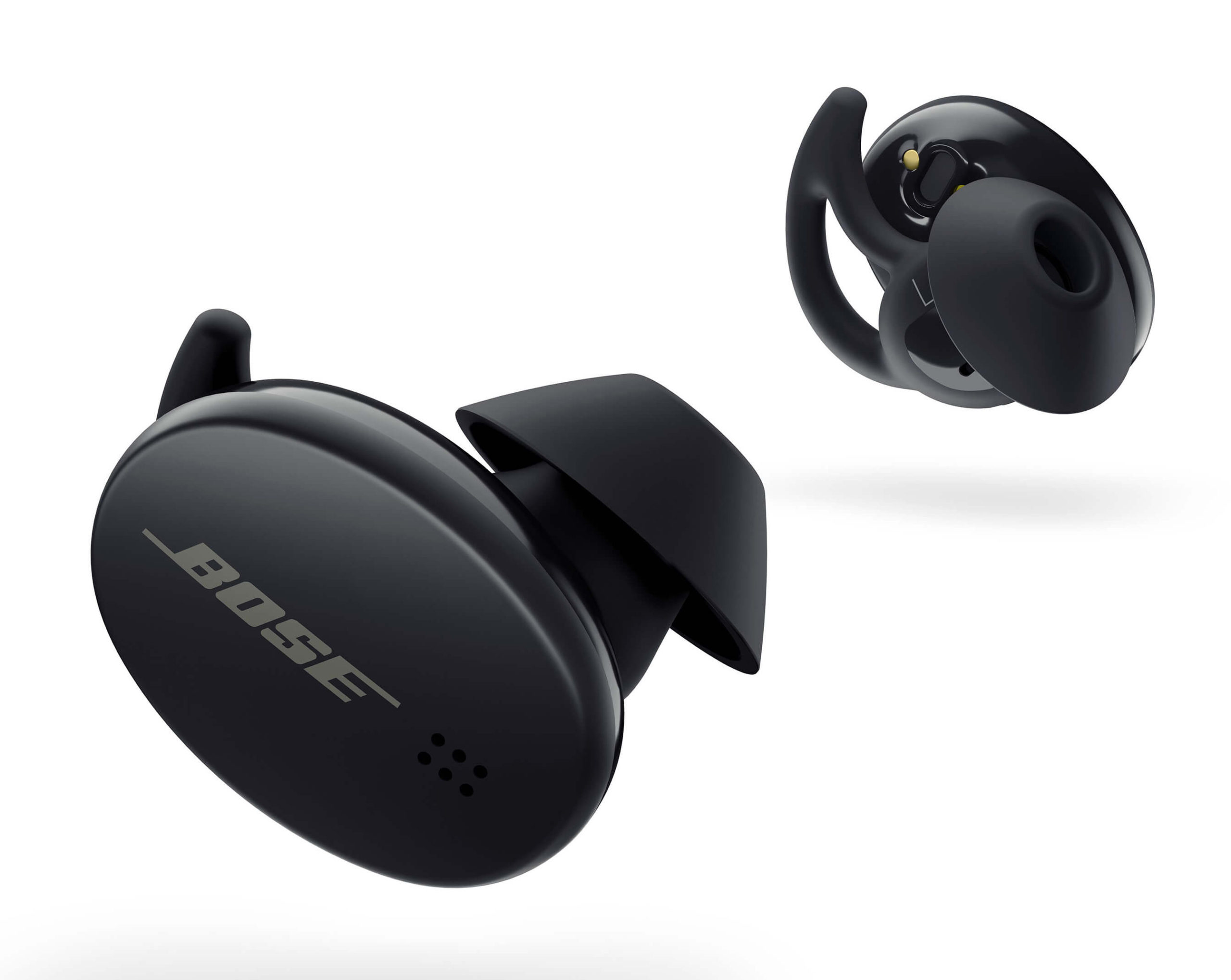 £179.95, bose.co.uk
A solid pick for audiophile fitness enthusiasts, these sweatproof buds spit out full-bodied and well-rounded sound. You only get five hours of battery life on the buds and ten in the wireless charging case, but that's offset a little by a 15-minute rapid charge that delivers two hours of sweat time.
There's no ANC or transparency modes, you can't tweak the sound, and they're a little chunky and pricey for the feature set. But if a premium audio experience is top priority, you can perhaps justify the compromises.
Fit: 3.5/5
Sound: 4.5/5
Overall: 4/5
Jabra Elite 7 Active
£169.99, jabra.co.uk
The Elite 7 Active utilises a wingtip-free design, relying instead on a new ShakeGrip coating to improve the stay-put fit. However, the fit isn't as reliable as wing-tipped alternatives and fussy ears may struggle to keep them locked in.
You get big battery life, with eight hours on the buds and 22 in the case plus ANC, a customisable HearThru awareness mode and a new slimmed-down charging case. Rapid charge delivers an hour's sweat time from five minutes on the grid – that matches the Vista 2 – and at just 5.5g, the buds are as light and compact as it gets.
Fit: 3/5
Sound: 4/5
Overall: 3.5/5 
Adidas Z.N.E 01 ANC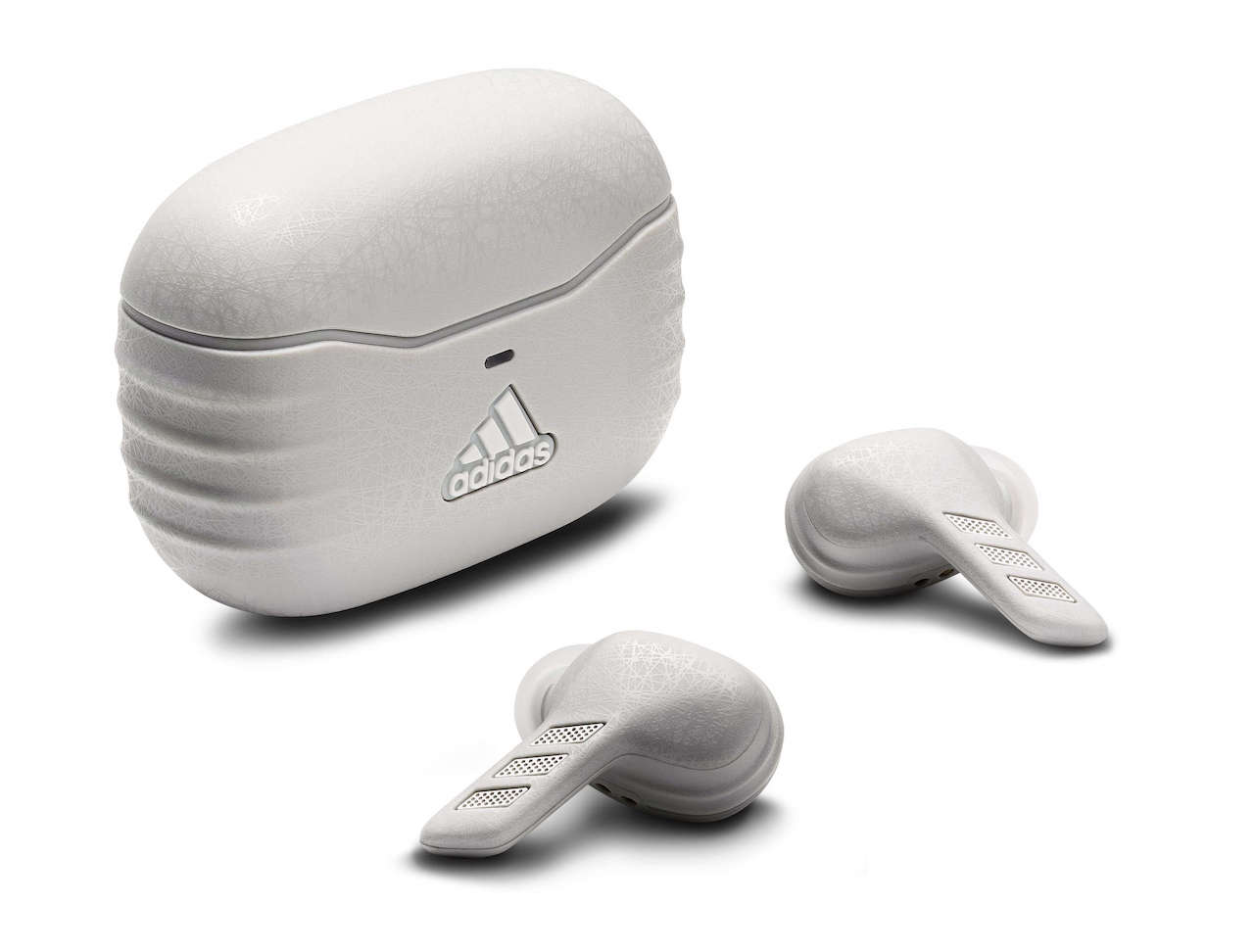 £170, adidas.com
Adidas launched two sets of two true wireless headphones in 2021 and the pricier Z.N.E 0.1 ANC option comes with slightly better all-round skills. That includes ANC, in-ear detection with auto pause and a 26-hour total battery life, with six hours in the buds and 20 in the compact back-up case.
The wingtip-free, stem-style buds are light but there's a lot of plastic involved. The sound is loud, but tinny with limited EQ options. The ANC and transparency modes work well. They're sweatproof and water-resistant, and support wireless charging.
Fit: 4/5
Sound: 3.5/5
Overall: 3.5/5
JBL Reflect Flow Pro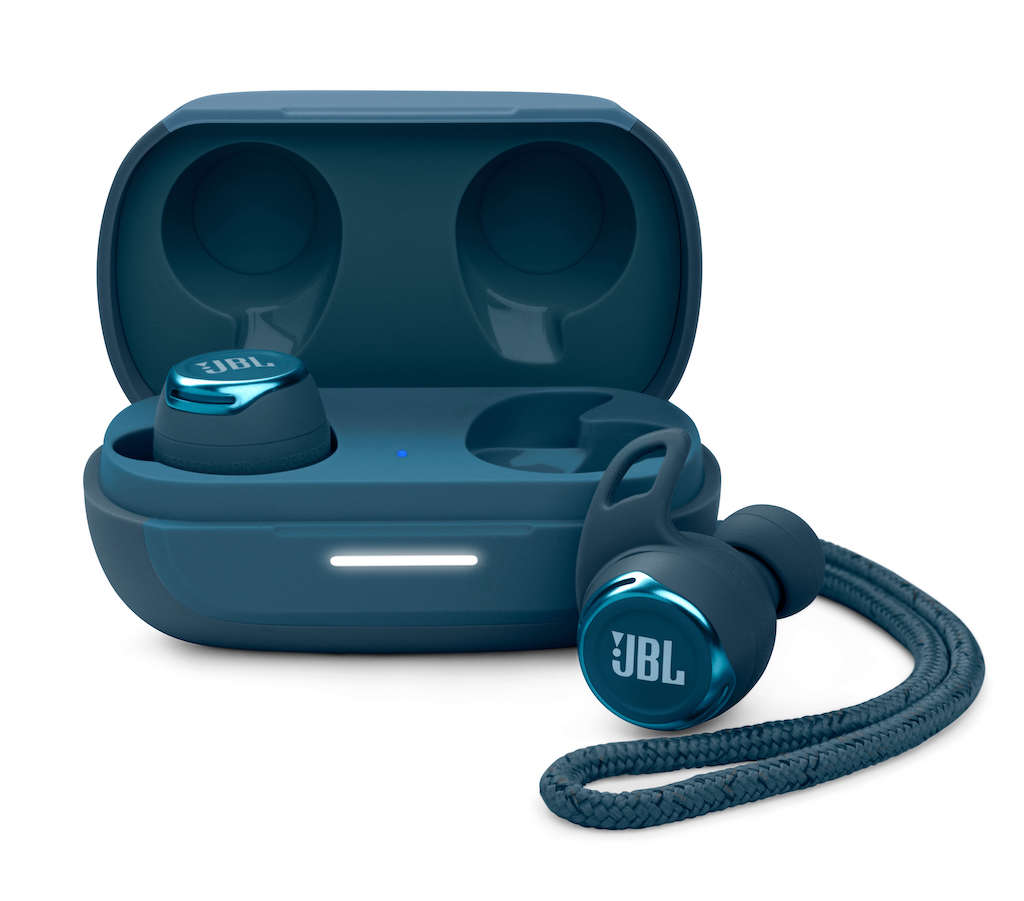 £159.99, uk.jbl.com
The Pro alternative to the original Reflect Flow true wireless earbuds, these wingtip and ear-gel headphones come with adaptive ANC, Ambient Aware – JBL's awareness mode – and a TalkThru mode that lets you chat naturally without removing your buds.
A set of 6.8mm dynamic drivers power up to ten hours of beast-mode music from the buds with a further 20 served up by the wireless Qi-compatible charging case. The sound is OK but not remarkable, and the buds are a tad bulky and protruding but still offer a decent fit. They're also water-, sweat-, rain- and dust-proof, and fully rinseable post-workout – handy if you're a heavy sweater.
Fit: 4/5
Sound: 3/5
Overall: 3.5/5
Words: Kieran Alger